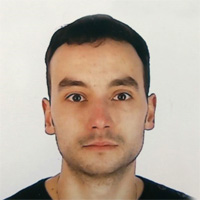 Predoctoral FPU Fellow
Área of Cartographic Engineering, Geodesics
Short CV
Bachelor's Degree in Energy Engineering from the University of Vigo in 2015. Master's Degree in Energy Efficiency in Building, Industry and Transport from the Polytechnic University of Madrid in 2017. Currently student of the Interuniversity Doctorate Program in Geotechnologies Applied to Construction, Energy and Industry proposed by the Universities of Salamanca and Vigo. Specifically, his doctoral thesis is titled 'Automation of the thermographic inspection: development of thermal-geometric algorithms for detection of pathologies supported by machine learning strategies'. It focuses on the development of thermographic image processing algorithms for the automatic detection, classification and characterization of pathologies that can be found in a great variety of structures of different scales and their subsequent integration into a management system based on machine learning strategies. At the same time, he teaches at the Mining and Energy Engineering School (University of Vigo) in the Area of Cartographic, Geodetic and Photogrammetric Engineering, thanks to a scholarship of the Ministry of Economy and Competitiveness (Government of Spain), called FPU – Education of University Teachers.
Tutorías
2º cuatrimestre
Tutorías no presenciales concertadas
El docente tiene una oferta de tutorías no presenciales en horario concertado. Para concertar una cita puedes hacerlo desde tu Secretaría Online.